We've added a great tool to help you compare the products throughout our site. If a page contains a list of products that can be compared, you'll see a small box at the top of the each product. Simply click the checkbox on each product that you want to compare.

Once you've selected all the products that you wish to compare, click the Compare Selected button which can be found at the top and bottom of the page.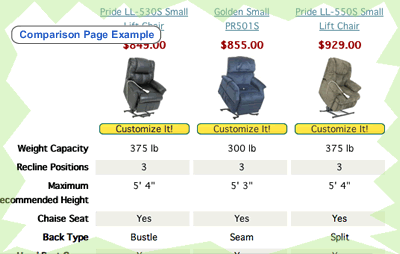 You'll then be taken to a page that has the products and their specifications in an easy to read table. This allows you to compare the products you are considering at a glance.
The page is also printer friendly. So print it out if you need to and mull it over somewhere other than in front of your computer.
If the comparison table doesn't answer all your questions, please give our lift chair experts a call and they'll be able to fill in any gaps that we missed on our website.