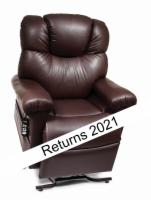 Experience the absolute best in rejuvenating rest and relaxation with the Power Cloud PR512 infinite position lift chair. This model comes with several industry exclusive features that put it far ahead of the competition when it comes to customizable comfort. The Power Pillow articulating headrest is just one unique feature that works to provide comfort and support as you rest. You can also use push-button controls to independently operate different components of the chair to find the ideal position, which can then be programmed into the memory settings.
This stylish recliner is a great addition to any home and provides the perfect mobility tool for relieving pressure on achy muscles and joints. The quiet and powerful lift mechanism will gently glide you between sitting and standing positions so that you can enjoy more independence and less discomfort.
Call today to speak with a lift chair expert and order yours!