Manufacturer

:

Connect America

Model Number

:

medical-alarm

No Activation or Setup Fees
No Long Term Contract

Medical Alarm System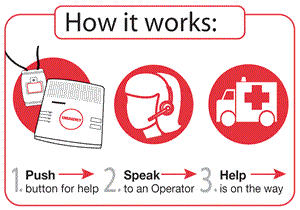 You can rest easy about you or a loved one's well being when you have the Medical Alarm System. It is easy to get started and even easier to use.
How it Works
It's hard to describe this without making it seem simpler than it actually is. But it is that simple. In the case of an emergency, a button on the remote is pushed. The remote can be worn around the neck or wrist for easy access. An operator is then contacted who inquires what the emergency is. If needed, the operator can then contact local emergency agencies and is even able to fill them in on pre-existing conditions.

How to get Started
To begin living with the comfort of knowing that help is a button push away, please fill out the form below. Someone will shortly be in contact with you to get you started. Fields marked in
red
are required.